St Marie reef
This beautiful reef is located in front of Coral estate and is easy to access from our dive Center. St Marie reef is a rocky slopestyle reef. Between the rocks many sea creatures take shelter, that's why st Marie is ideal for night diving. During the night many lobsters, crabs, moray, lionfish, and even octopus come out to hunt. St. Maire is also during the day full of life you can spot many trumpet fish, Pufferfish, cowfish and now and then a turtle will show himself.
Best Depth between: 5 - 20 meters / 15 - 65 feet. Sealife: Green Moray eel, shrimps and Octopus Current: None - mild
Coral Habitat
It is one of our 2 beautiful houses Reefs. You enter the water in front of our dive center and turn to the left. Coral habitat is a beautiful slopy reef with a big variety of soft corals. The reef starts at 5 meters depth and goes al the way down to 60 meters. Between the soft coral, you can spot al kinds of different sea creatures like; Green moray, shrimps, and Octopus. Also, we do this dive by boat. Then we drop a little bit further out and drift al the way back to the dive center. Because there is mostly no current this dive site is ideal for a check-up dive before you jump on the boat to explore the dive site around curacao.
Best Depth between: 5 - 20 meters / 15 - 65 feet. Sealife: Pufferfish Lobsters and turtle Current: None - mild
Mushroom forest and the blue room.
From our dive center, it takes a 40-minute boat dive. Mushroom forest is the most famous and one of the best dive sites from curacao. The name mushroom forest comes from the coral that grows in a ''mushroom'' formation. In combination with a big variety of sea life like tuna, turtles, and even a nurse shark. Is Mushroom forest one of the most unique dive sites of the Caribbean. To make it even better we end the dive in the Blue room. This unique cave is the perfect place to end your dive and spotted a group of glassy eye sweepers.
Best Depth between: 15 - 20 meters / 50 - 65 feet. Sealife: glassy eye sweepers, Turlte and Nurse shark Current: mild - strong
Lighthouse
This dive site is located in front of Coral Estate, right next to one of our dive centers, Coral Divers. Do not expect to see a big lighthouse on the coast because the lighthouse burned down a long time ago and only some remains are left. Due to the location most of the time there is a current. This makes this dive site ideal for a good drift dive. The steep slope is overgrown with beautiful corals with all kinds of sea life. When you drift by the slope you will enjoy the beauty of it. Do not forget to look into the blue, sometimes between the many hunting barracudas an eagle ray may pass by.
Best Depth between: 15 - 20 meters / 50 - 65 feet. Sealife: lionfish, Moray Eel, Baracudda's, and eagle ray Current: mild - strong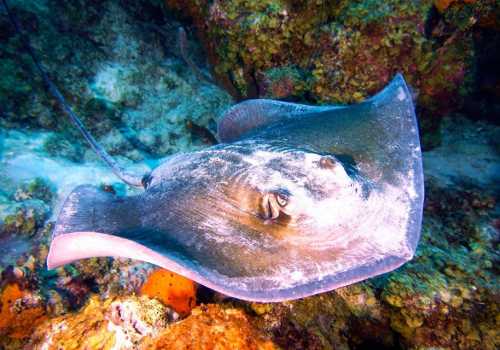 Witches Kitchen
Just around the corner of st Marie is the Whitchen kitchen located. The name whitchen Kitchen is coming from the many big sponges how grown on the reef. The sponge looks like cauldron where witches like to make their positions in. Between de corals and big sponges, many sea creatures take shelter like eels, spotted cleaner shrimps, and lionfish.
Best Depth between: 05 - 20 meters / 15 - 65 feet. Sealife: Blenny, big sponges and sting ray Current: mild - strong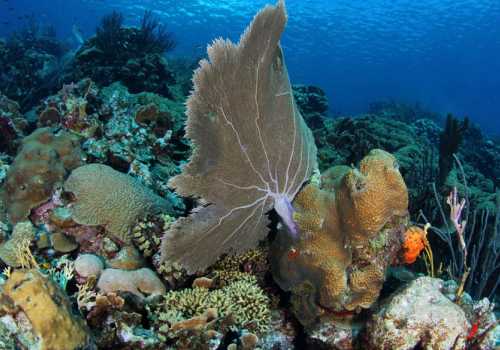 Seldom Reef
Seldom Reef is located at the 'Bullenbaai' and is one of the most beautiful dive sites of Curacao. The name already tells you that we come there 'Seldom'. It is a drift dive and we can only dive there when the sea is calm. That is why not many people dive there. Because of the remote location the coral reef is in great health. The reef is loaded with large elephant ears, sea fans, sponges and under the hangovers from the rocks it is a good place to search for nurse sharks. The dive site is a mix between a wall dive and a sandy slope. That makes this dive site very interesting.
Best Depth between: 07 - 20 meters / 20 - 65 feet. Sealife: Moray eel, eagle ray, and nurse shark Current: Mild to strong
Playa Manzanila;
It is located between the turtle beach and Shon Mosa. Manzalina is lying in a bay that makes is a very relax and easy dive site with no current. the coral slope starts at 5 meters depth and slowly descends into the depth. Manzanila is an ideal dive site for spotting smaller sea creatures. Look into all the anemones you pass by and you will find Spotted cleaner shrimps and Clinning crabs. Also, plenty of arrow crab and Pederson shrimp are find on this dive site.
Best Depth between: 07 - 20 meters / 20 - 65 feet. Sealife: Cleaner shrimps, spotted eels, and lobsters Current: None
Black Coral Garden
is located in the Soto area. The dive site is a slope where the rare black coral grows. That's where the name Black Coral Garden comes from. The skeletons of the coral are black but the polyps have varying colors such as ass red, white, green, or yellow. Between the black coral, you can find all kinds of sea creatures such as Lionfish, spotted cleaner shrimp, and scorpionfish. And next to the reef you can spot barracuda's hunting.
Best Depth between: 10 - 30 meters / 30 - 95 feet. Sealife: Moray eel, eagle ray, and nurse shark Current: Mild to strong